Bhavan, Shivamogga
Precious Land 69,978 Sq. ft. in extent belonging to Child Welfare Trust founded by Late. Dr. D. Krishnamurti ( Remembered for ever as Malnad Doctor) was donated to Bharatiya Vidya Bhavan by Dr. D.Balasimha and family. Dr. D. Balasimha is the worthy son of Dr. D. Krishnamurti . Bhavan's building here is housing Dr. D. Krishnamurti and Smt. D.Shakuntalamma Memorial School.
The generous contributions by the Philanthropic citizens of Shimoga, other parts of India and overseas has resulted in the construction of this magnificent Building.
Building Information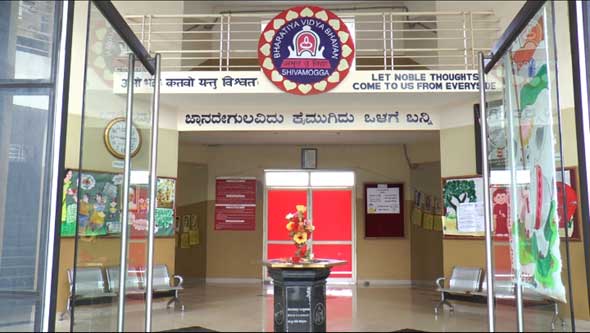 BHAVAN'S Building has four floors with a built up area of 51,607 Sq. ft., It has been conceptualized around the innate sense of uninhibited freedom and a refreshing attitude of the children and need to retain a free, open, interactive relationship between the student and the teacher. These ethos are reflected in the open planning of the school where the corridors, class rooms, labs, auditoriums, everything open to the exteriors spaces creating an interesting dialogue.
The mini amphitheatre at the second floor and the small steeped activity area in the ground floor serve to intiate interactions between different classes and the faculty. This also provides the children an interactive space to revel in the cultural and literary activities fostering a sense of belonging and creates and nurtures an atmosphere of bonhomie and camaraderie.